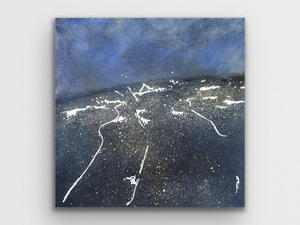 Night Sky Watercolor and Ink Print for your home, kitchen, dining room, study, den, living rom, office, kid's room, or nursery. A fine art print on archival matte paper.
Multiple sizes available. Available sizes:

12 x 12
16 x 16
20 x 20

Most prints ship within 1-3 business days. I work closely with a professional printer to assure you receive a high quality print. In addition the printer inspects all orders prior to shipment to assure the print meets their internal quality standards. Free shipping in the US.

Night Sky Watercolor by Phylinda Moore

Thank you for taking a look at the painting. I use a poured painting technique to let the colors flow and layer the paint. I If you have any questions please reach out. Your satisfaction is my priority. I enjoy hearing from you.